RiceCakeMaking culture of ancient Japan, rare in modern Japan, And in overseas RiceCakeMaking itself is "surprise!".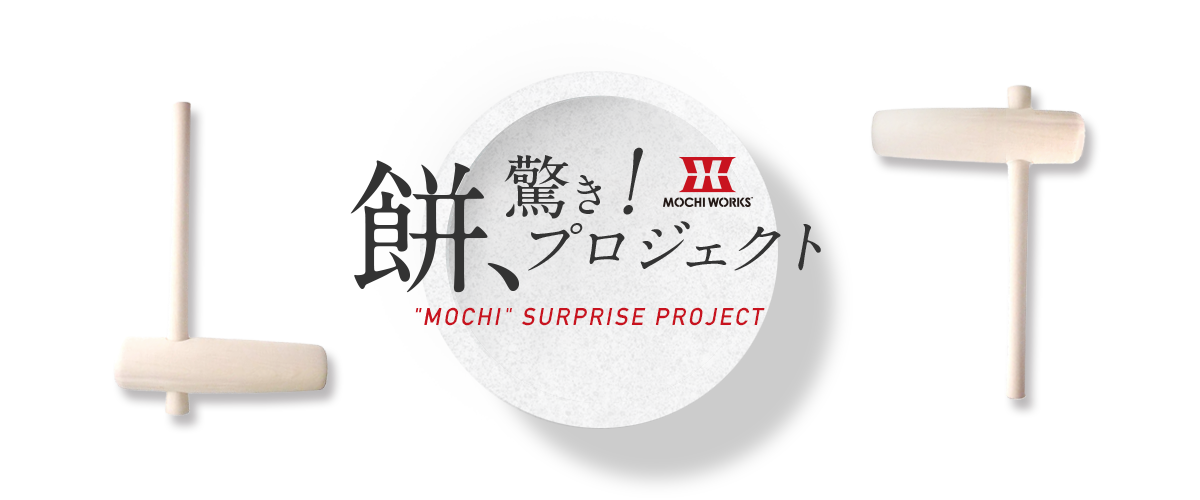 餅、驚き!プロジェクト
日本古来より伝わる伝統行事「餅つき」
古くから日本では、民俗学でいう"ハレの日"(非日常、特に神祭など祝いの日)
に行われるとても縁起の良い行事として、この「餅つき」が行われてきました。

また現在の日本においても最も人の集まる行事は「餅つき」「餅まき」といった「餅」にまつわるものだと言われています。 これは古く大昔から継承され続けてきた、日本独特の文化です。

現代においては日本人ですら「餅つき」はめずらしいものとなり、
そして海外においては「餅つき」自体が「驚き!」になるのです。

家族の誕生日、親友の結婚式、恋人との大事な記念日…。
特別なひとの、特別な一日を、特別な演出で「あっ!」と喜ばせる。
あなたもそんな「サプライズ」を一度はしたことがあるんじゃないでしょうか?

驚いたひとも、驚かせたひとも、周りのひとも、みんな笑う。
なぜだか、サプライズ(驚き!)の先には「笑顔」があるのです。

「餅、驚き!プロジェクト」とは、世代や人種をこえて、
世界中の人たちに餅つきの楽しさと、つきたての餅の美味しさを味わってもらい、 「驚き!」で「笑顔」をつくる、世界へ向けたプロジェクトです。
"MOCHI" SURPRISE PROJECT
Traditional event to come from ancient Japanese "mochi" In Japan, referred to in folklore "Hareno-hi" ( non- daily, day of celebration such as especially ) for a long time Event as very auspicious to be carried out, this "rice cake with" have been done.

In addition, it is said that the event people gather most in Japan today is a thing "rice cake" and "Mochimaki" surrounding "rice cake". Has continued to be inherited from the old long ago, this is the unique culture of Japan.

The Japanese even becomes the thing unusual "Mochi" in modern times, And " rice cake " itself is to become " surprise ! " In foreign countries.

Birthday of the family, an important anniversary wedding of best friend, lover and... I and pleasing ! " There " in a special effect, a special person, a special day. Would not you have ever once such a "surprise" you too ?

Some people around, people were surprised, people were surprised, everyone laugh. I have a " smile " to the tip some reason, Surprise !

" Rice cake, surprise ! Project " it is beyond the race and generation, Have fun and taste of rice cake with, the taste of the rice cake of Tsukitate to people around the world, to create a " smile " and " surprise ! " Is a project aimed to the world.
You will reach a rice cake which you can think people around the world and delicious.

Conduct a performance that you can think people around the world is fun.

We aim to rice cake with you jumping out from the rice cake with ancient Japanese, can participate people overseas.

Use specialties glutinous rice which selected carefully from all over Japan, it provides a delicious rice cake of Tsukitate.

I will produce both adults and children can enjoy, with a rice cake of taking a lesson from the past.

-ORDER-
オーダーについて(日本国外)
派遣人員

3〜4名体制

日 程

移動もあわせて3〜4日程度

運搬物容量

合計100kg前後【臼(30kg) / 杵(4ヶ:12kg) / 餅米(30kg) / その他】

費用概算

500,000円(上記含む)
※旅費交通費、宿泊費別途
※もち米増量の場合は別途
※人員増員の場合は別途
※日本国内についてはお問い合わせください
About order (Japanese foreign territory)
The dispatch staff

3-4Systems Staff

Schedule

Match the movement; and around 3-4 days

Portage capacity

Around 100kg [30 kg of mortar / mallets (four:in total 12kg) / glutinous rice(30kg) / and others】

Expense rough estimate

500,000 yen (I include the above)
※Travel expenses transportation expenses, road according to the hotel charges
※In the case of glutinous rice increase in quantity separately
※In the case of a staff increase of the staff separately
-FLOW-

【1】ORDERMake the hearing date and time, place, purpose and the number of participants, applicant information.
【2】REPLYI will reply schedule availability, amount, payment method, up to implementation, and personnel configuration.
【3】CHECKImplementation will be determined to have gotten a credit card payment at this point.
【4】PERFORMANCEWill be conducted in the order of movement and production, a field survey by moving.
【5】FINISHWill be mailed a photo or video that contains the state of the day.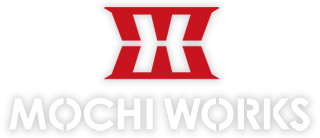 MOCHIWORKSとは、システムプログラマー、エンジニア、デザイナー、コーダー、ウェブディレクターといった「IT事業」に関わる人間が、普段のツールであるPC、タブレット、キーボード、マウス、スマートフォンといった機器を全て捨て、杵でクリエイトを行う「パフォーマンス集団」です。IT革命と言われて久しい現代の日本において私たちは、ITとは「Information&Technology」だけではなく、「Inovation&Termination」つまり創造と破壊(いちど終わらせること)が本質ではないか、と考えています。日本古来の伝統ある文化「餅つき」をそのまま受け継ぐ本来のかたちを一度壊し、世界へ向けて「日本が世界に誇る文化」として再構築し、餅つきの新しい見せ方を提案しています。
The MOCHIWORKS, the person or people system programmers, engineers, designers, coders, and web director in "IT business" has discarded all the equipment PC is a tool of everyday, tablet, keyboard, mouse, and smartphone, to perform create punch is "performance group". We believe that IT not only "Information & Technology", "Inovation & Termination" (ie that to end once) is, or not essential to creation and destruction in Japan modern long been referred to as the IT revolution. To break once the shape of the original inherit directly culture in ancient Japanese tradition of the "rice cake with", rebuild as a "culture of Japan is proud of to the world" toward the world, we have proposed a new way to show the rice cake with.